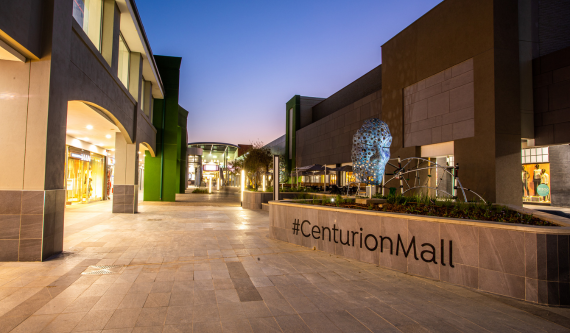 ---
About Centurion Mall
Centurion Mall boasts for its iconic architectural features that extends to the open-air Spine area, creating a unique indoor and outdoor shopping experience, where shoppers are spoilt for choice with over 220 local and international shops to choose from, including: Woolworths, Checkers, Pick n Pay, Game, Shoprite, H&M, Cotton on, McDonald's, Château Gâteaux, Big Blue, Starbucks, to name a few.
The 133 333sqm super-regional mall also offers family fun entertainment at Extreme Karting, Funtubbles, Ster-Kinekor, the Centurion Boeremark, participating eateries and so much more.
The Mall further caters for an office and academic environment that allows for professionals and students to work at Regus and the Centurion Mall Offices, and study at Richfield Graduate Institute.
Centurion Mall is located in the Centurion CBD with great visibility from John Vorster Road, which can be easily accessed with private and public transport as well as the Gautrain services.
The Mall offers ample undercover and open parking with a variety of services that ranges from family and baby-changing rooms, free Wi-Fi, ticketless parking, Muslim prayer facilities, environmentally friendly initiatives and more.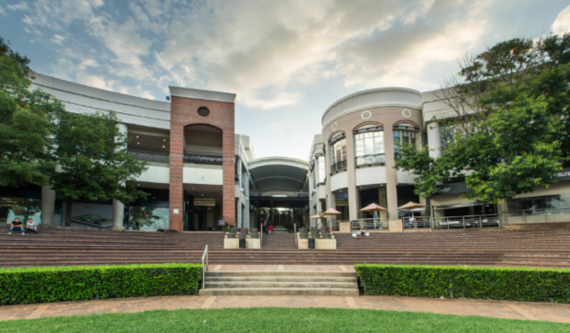 ---
OUR HISTORY
Centurion Mall first opened its doors in April 1984 with 100 shops including a OK Bazaars. It was constructed around the Centurion Lake, which is on the Hennops River; and was the only shopping centre with anchor tenants at that time until the early 2000s. The mall was originally known as Verwoerdburgstad.
One of the highlights of the mall was the introduction of the water organ that was imported from America, which was known as the "Waltzing Waters".
It then underwent major developments in 2003, making it the second largest shopping centre in the Tshwane metropolitan area.
In 2003 the mall was further developed and was launched in April 2004 with an additional 28 712 m² in retail space and 1,300 additional secured parking bays. Woolworths was relocated and the following major stores were added: Game, Fruit And Veg And Toys R Us.
The spine, mezzanine level and the bayside was also revamped. The new look and feel proved to be very successful and added tremendous value to Centurion Mall. In June 2006 a final deal to purchase the east and west parking areas was concluded with the City Council. Construction commenced on the west parking as well as 4 new restaurants in August 2006. In October 2006 construction commenced on the east parking and 3 parking decks were introduced. The parking project including the east and west parkades were completed in December 2007.
In 2009 the mall was refurbished and introduced two more cinemas as well as revamped the Edgars and Dis-Chem stores. In 2011, another development took place with four additional entrances. Pick 'n Pay also revamped the store near a new entrance. Woolworths upgraded and extended their GLA by approx. 1.800m² in 2012.
In 2015, Centurion Mall was acquired by Redefine Properties and is the largest retail asset in the retail property's portfolio, with floor space of over 133 000m² (which is as big as 18 rugby fields).
In 2017, a major mall refurbishment commenced with new national and international tenants; as well as major refurbishments to existing stores.
The mall was relaunched in November 2019 to be established as the shopping centre destination in #theheartofcenturion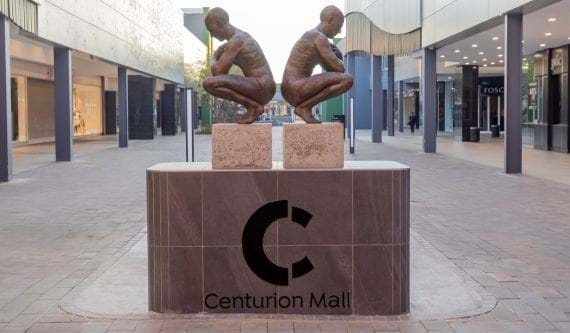 ---
PARKING
Centurion Mall has over 6000 open and covered parking bays that includes disabled parking bays and moms and tots parking, which are located near all entrances of the mall.
Parking Tariffs
| 0 - 30 MINS | FREE |
| --- | --- |
| 30 MINS - 1 HOUR | R 5.00 |
| 1 - 3 HOURS | R10.00 |
| 3 - 4 HOURS | R20.00 |
| 4 - 5 HOURS | R30.00 |
| 5 - 6 HOURS | R40.00 |
| 6-11 HOURS | R80.00 |
| 11 + HOURS | R100.00 |
| Entry after 18h00, Saturdays, Sundays & Public | R10 FLAT RATE |
| LOST PARKING TICKET REPLACEMENT (NON-REFUNDABLE) | Monday - Friday: R50 |
| LOST PARKING TICKET REPLACEMENT (NON-REFUNDABLE) | During Flat Rate : R10 |